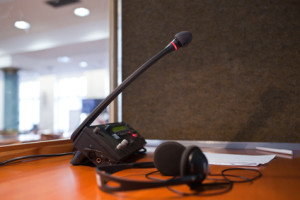 With simultaneous interpretation by Anglosphere's team, language barriers are no longer an issue!
Considered one of the most skill-intensive type of services associated with foreign languages, simultaneous interpretation implies that a speaker's words are being translated immediately as they are spoken. Therefore, just being able to speak both languages would not be enough to perform this task. In order to ensure the success of an event for which they are providing support, a simultaneous interpreter needs to possess a specific range of knowledge, skills, and competencies, such as:
high speed of thought
broad expertise
a solid understanding of the event's subject matter
Furthermore, as simultaneous interpretation is most commonly used to support important larger-scale events, it is essential, too, that an interpreter should make a positive impression with his or her appearance, good manners, and proper conduct in a formal environment.
We are ready to provide support for your events with the services of top experienced interpreters who will ensure that any occasion is held at the highest standards.
Our agency is a team of professionals who do their work with proficiency and passion. With our simultaneous interpretation services, we have assisted in the successful holding of numerous business meetings and other events. For your reference, on our website's homepage you may find our customer list.
With the highest quality standards we maintain, our simultaneous interpretation services are offered at rates that are more than competitive. Our rates are task-based and shaped by the following factors:
Number of working languages
Subject area
Scope of the event
Anglosphere is a provider of choice for professional simultaneous interpretation in Moscow and other locations
A leader among translation agencies, our company has worked with a number of top-of-the-line companies based in Russia, Europe, and the US. Our team has participated in providing efficient simultaneous interpretation support for a large number of events, such as:
conferences, symposiums and trade shows
presentations, workshops and trainings
meetings and negotiations
We offer the most competitive value in simultaneous interpretation support available in Moscow, at the most attractive rates. Please contact our team to discuss your requirements in more detail.